Designs for Vision Loupes and Optics
Designs for Vision is the number 1 trusted brand that surgeons rely on for quality, reliability, and durability. They are the world's leader of magnification and illumination products in surgery. Our DVi Surgical Loupes provide the TRUE magnification expected for demanding procedures.
MediGroup is the official supplier for Designs for Vision Loupes in Australia. Contact us today for a fitting or for repair.
NEW Infinity VUETM Loupes
Chin Up – Neck Straight – Eyes Forward
Designed to provide a straight forward approach to ergonomics,
Infinity VUETM loupes are available in 3.0x, 3.5x and NEW 4.5x magnification.
Infinity VUETM (Vision Up Ergonomics) keeps your chin up, your neck straight and your eyes forward while viewing the magnified surgical field.
NEW Panoramic Loupes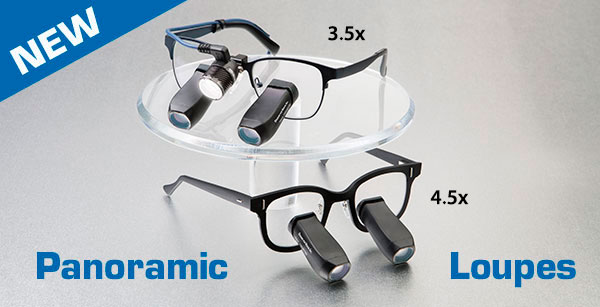 See the Bigger Picture
with the patented panoramic design – the first advancement in telescopic optics in 100 years
Doubles the Viewable Area
over Prismatic Expanded Field optics, and more than quadruples the viewable area over Galilean Standard Field optics
3.5x and 4.5x Precision Magnification
with unprecedented fields of view
Designs for Vision Custom Optics
with crisp side to side imaging and rectangular shape for maximum peripheral vision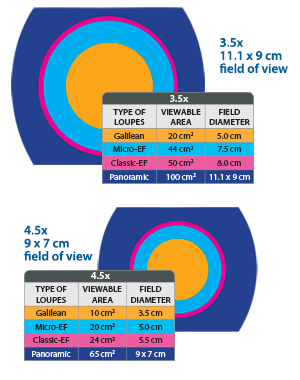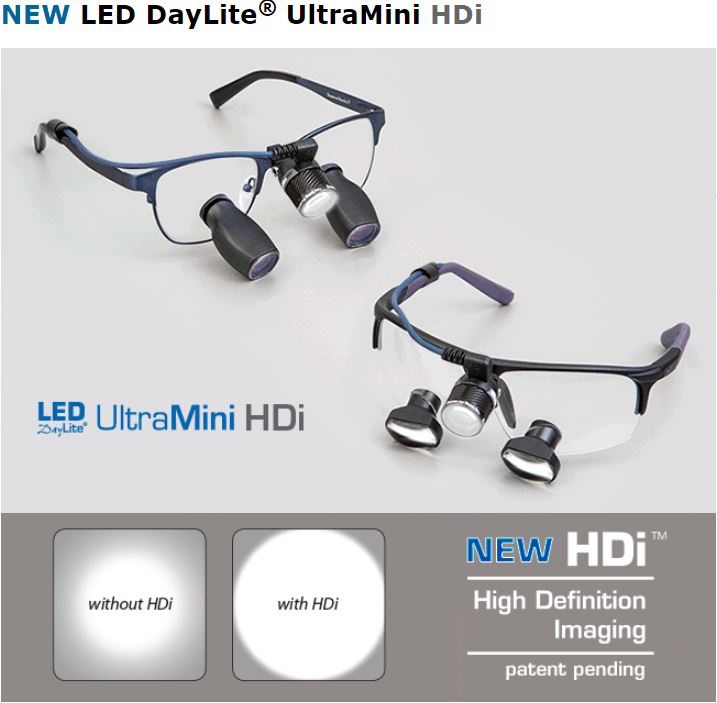 NEW LED DayLite® HDi Series
Introducing HDi's advanced photonic design providing uniform light distribution with fiber optic quality light. The entire LED DayLite series of headlights are now equipped with HDi technology providing 45% more light and increased modularity.
BRILLIANT

HDi's advanced photonic design provides 45% more light with an even field of illumination.
MODULAR

The HDi Universal Power Pack recognizes and operates each HDi series headlight. Each HDi headlight can easily be moved to and from the magnification or headset you select for a particular procedure.
FLEXIBLE

The HDi series of LED DayLite headlights provide a wide range of illumination to choose from. Each modular light can be locked into a position coaxial to your line of sight.
PATENT PENDING OPTICAL DESIGN
45% More Light with an even field of il

lumin

ation – enhancing detail and increasing depth of field.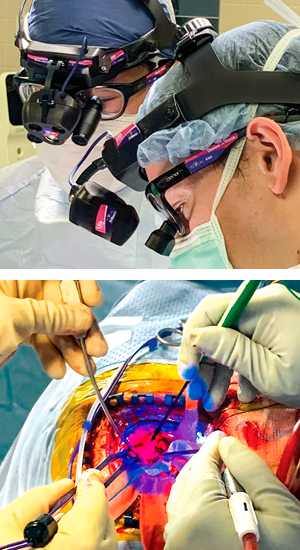 Introducing REVEAL FGS
The first WEARABLE Fluorescence Guided Surgery system, providing surgeons with freedom of movement and positioning during FGS procedures.
Designs for Vision's new REVEALTM FGS system combines blue excitation light with emission filtered eyewear providing vibrant fluorescent visualization. Various magnifications can be incorporated into the REVEALTM FGS system.
This portable, wearable system offers the same visualization of other Fluorescence Guided Surgery approaches, with several distinct advantages including the ability to change perspective by simply changing your line of sight.
About Designs for Vision, Inc
Over seven decades ago, Dr. William Feinbloom established Designs for Vision in the back of a small clinic in Buffalo, New York, with the goal of enhancing the potential of individuals from all backgrounds through improved vision. Today, the company's specialized optical products are utilized by surgeons and dentists on a daily basis, enabling them to alleviate pain and enhance quality of life for thousands of visually impaired individuals. Designs for Vision has been successful in fulfilling Dr. Feinbloom's vision for the company.
The company continues to focus on researching and designing optical products to aid in better vision. Designs for Vision's precision research and manufacturing is among the most advanced in the world. Additionally, Designs for Vision conducts research for major companies such as Hitachi (MRI Optical Lighting).
Designs for Vision is still privately owned and adhering to its philosophy of "Growth Through Contribution". The company has expanded to 73 offices worldwide, and continues to promote their tradition of "See What's Right About Made in America."
Read more about DVI here
Optically Aligned to YOUR Interpupillary Distance Measurement –
ensures you are looking through the optical center of the telescopes, providing better vision.
Unique Shape allows for Better Surgical Vision.
Exclusively Designed, Engineered and Manufactured.
Easier Peripheral Vision and Better Ergonomics due to telescopes lower position relative to eye.