StraCos 3D Rib Clips are intended for the surgical stabilisation of single, multiple and comminuted fractures of the ribs, either immediately after trauma or secondary after failed conventional therapy.
The clips are attached over the site of the fracture, to prevent movement of the floating rib section, facilitating a quick and painless healing process.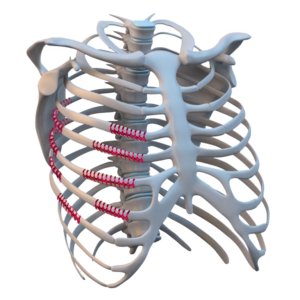 StraCos Rib Clips are applied with no screws, preventing damage to the neurovascular bundle, and preserving possibly weakened bone resultant from the trauma event. The titanium prosthetic can be manipulated easily to any anatomy and quickly attached using a pair of universal pliers. Chest trauma is often conservatively treated, however this can lead to chronic pain, and bone non-union leading to further complications for the patient. Rib fixation has been proven to reduce hospital length of stay and morbidity rates.
Only two , sometimes three instruments required to apply

MRI compatible prosthetic
Fast and secure stabilisation for multiple ribs

Minimally invasive procedure reduces risk of infection

Reduced risk of damage to the neurovascular bundle

Flexible clip does not impair the natural movement of the rib after surgery

Stabilisation alleviates or avoids pain altogether

Early stabilisation shortens intensive care treatment, including ventilation

The treated patient is mobile directly after the surgery