A perforator should be designed to cut through safely and easily without applying lots of pressure. It's not about using maximum strength, but achieving the best result.
Everything about the evoDrill has been designed to make your task as a surgeon both more comfortable and more efficient. In turn, this enables the patient to recover faster and enjoy better outcomes.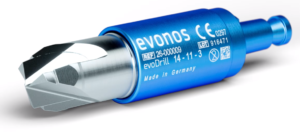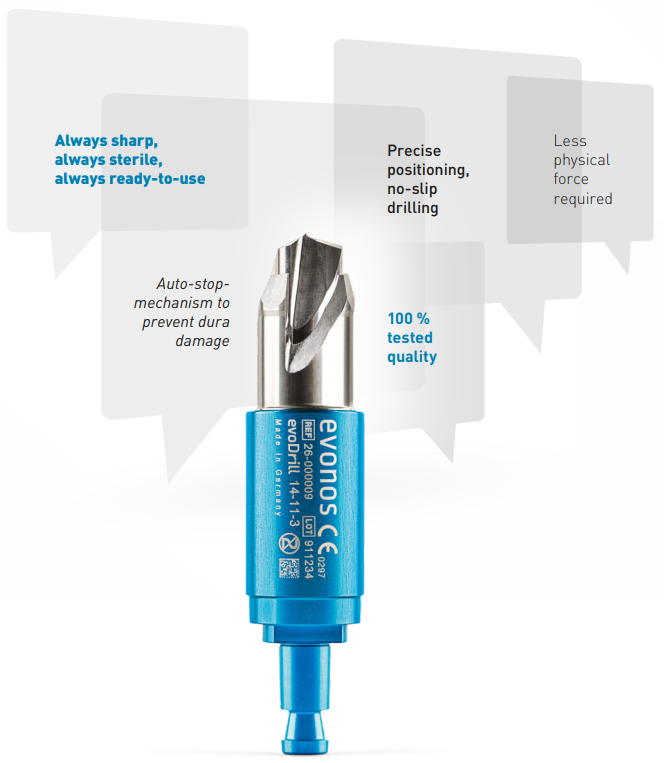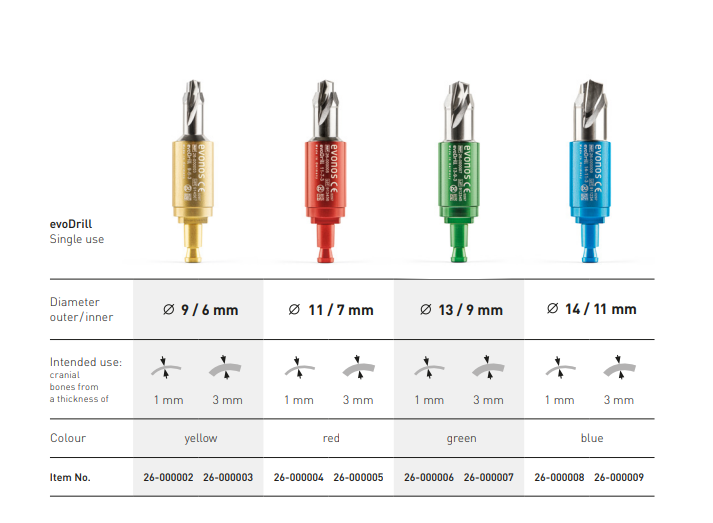 Unique design requires less

force
The unique waisted burr geometry allows precise, effective, effortless trepanation – holes are drilled quickly and easily. More precision, less brute force.
Safety function to pre
vent damage to soft tissue
The cutting force of evoDrill is applied by its edges, rather than its tip. When the drill pierces the bone, the lack of pressure on the drill tip activates a safety clutch – removing the risk of damaging underlying soft tissue.
Positioning tip for added precision
A tiny positioning tip at the point of the drill means there is no slipping. From the moment drilling starts, the drill stays in the right place, ensuring consistency and accuracy. No other competitor does this.
Suitable for thin bone layers
In addition to the standard 3mm product, evonos provides 1mm evoDrill variants designed specially for thinner skulls, such as in pediatric applications.
Single use – for simplicity and safety
Designed for single use, they are always perfectly sharp and gamma-sterilised. No need for expensive and time-consuming cleaning or sharpening, no need to hold more stock.
Universal fitting
Every evoDrill uses the industry-standard Hudson mount, and can be supplied with adapters to fit virtually any other chuck or coupling.
Precision engineered in Germany
Every evoDrill product is made in Germany and quality control checked before packaging.